Senior Behavioral Health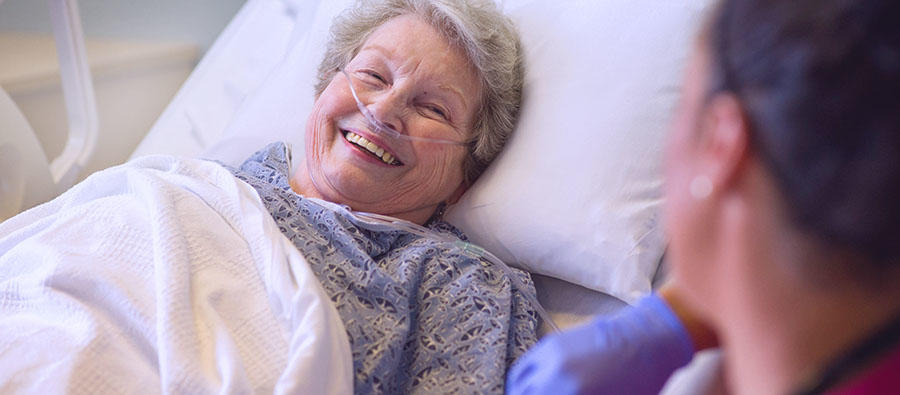 We are here to help you find what you need.
For many older adults, mental health problems—such as depression, anxiety, memory loss, and confusion—can be as serious as challenges to their physical health. Many of these mental health issues are complicated by medical and physical concerns.
That's why we've established a special unit within our hospital to focus on senior mental health, an area of medicine that jointly addresses the unique physical and emotional needs of older adults.
Our Senior Mental Health unit, located on the 3nd floor of the hospital, is designed to help patients and their families address the complex issues that can cause older adults to fall into a behavioral health crisis. Our "hospital within a hospital" is a secure unit offering short-term treatment to stabilize patients age 55 and over who are experiencing a crisis that cannot be managed in an outpatient setting. After a comprehensive assessment, we provide an individualized treatment plan of services and support focused on each person's situation and goals.
We're available to help 24- hours a day, 7 days a week. For more information please call us at 210-921-3558.
Visitation
Visitation hours are from 3:00 p.m. to 6:00 p.m. daily. We ask that visitors refrain from bringing any of the following prohibited items:
Food and drink
Purses, bags, or backpacks
Cell phones
Tobacco products or any items deemed paraphernalia
Metal objects of any kind (other than keys)
Conditions
Anxiety
Depression
Chronic Pain
Psychosis
Paranoia
Cognitive Changes
Phobias
Suicidal or homicidal feelings
Mood Disorders
Treatments
Psychiatric assessment and treatment
Management and treatment of medical conditions
Medication management
Nursing
Dietary consultation
Psychotherapy (individual, family and group)
Education for patients and families on diagnosis, treatment options and medications
Social work assistance with discharge planning and financial issues
Resources
When Someone You Love Has Dimentia

Caring for a loved one who is ill requires patience and compassion, and when that loved one is suffering from dementia, the caregiver's role can be especially challenging. Alzheimer's disease is the most common form of dementia. Other illnesses that cause brain function to worsen include Parkinson's disease and vascular dementia, which is a reduced blood flow to the brain's nerve cells.