Diabetes Care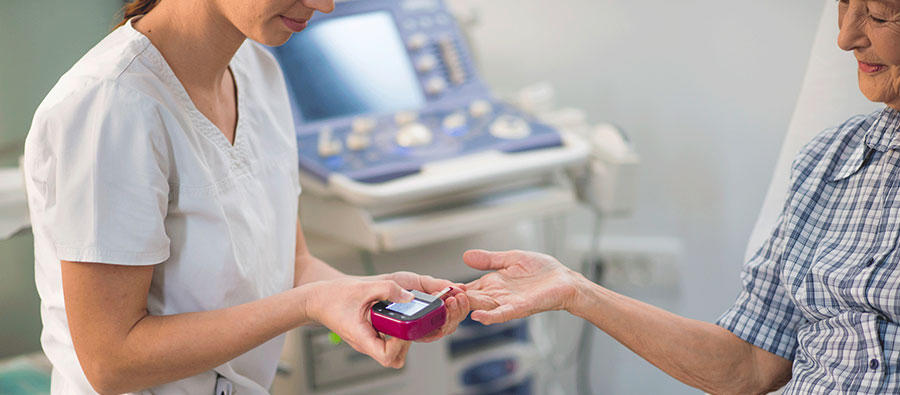 We are here to help you find what you need.
Texas Vista Medical Center's Diabetes Care Center was the first in Texas to receive a Certificate of Distinction for Inpatient Diabetes Care from the Joint Commission. This certification means that Texas Vista Medical Center provides patients with diabetes an opportunity to experience better outcomes because of glycemic management during their hospitalization.
Inpatient Care
There may come a time when you have to be admitted to the hospital due to diabetes or a complication of the disease. Our diabetes care team will work with your doctor to provide high-quality healthcare and to help achieve successful treatment. We also have specialized tools to maintain tight blood sugar control during hospitalization such as the Glucommander.
Outpatient Care
Our Diabetes Care Center also offers a comprehensive outpatient program designed to give you the knowledge and skills you need to live a better life with diabetes. Topics covered in the outpatient program include medication management, diet and nutrition, blood glucose monitoring, exercise, and stress management.
Insulin Pump Therapy
Many people need insulin pump therapy to control their diabetes. Scientific studies have concluded that this therapy can prevent diabetes complications, allowing patients to enjoy variety in meals, energy for exercise, and enhanced daily life. The insulin pump therapy programs we offer provide support, information, and the training you need for safe and successful insulin pump use.
Diabetic Retinopathy 
Diabetes is a disease that affects the entire body, including the eyes. Depending upon the stage of your diabetes, your physician may recommend that you be evaluated for diabetic retinopathy, a condition that can develop in one or two ways:
Weak, damaged blood vessels leak fluid into the retina, causing swelling and a loss of vision.
The eye attempts to self-correct a developing state of anoxia (lack of oxygen) within the eye by creating new, abnormal blood vessels, which burst and bleed into the posterior segment of the eye.
Diabetic retinopathy (in both of these forms) is the leading cause of blindness in adults. However, this condition can be managed with laser treatments, injections, and surgical modalities.
To learn more, schedule an appointment with an ophthalmologist by calling 210-921-2000.
Gestational Diabetes
If you've been diagnosed with gestational diabetes, you may have more questions than your physician has time to answer. Also, you may be concerned about the reliability of information found online. After all, when it comes to the health of you and your baby, you want the best information available.
Gestational diabetes classes are held at the Birthplace in the L&D Classroom from 1:30 p.m. to 3:00 p.m. Space is limited to 10 attendees per class. There is no cost.
Patients can begin the self-referral process by taking these steps:
Call 1-877-215-WELL (9355).
Scheduler should gather these key pieces of info: Your name, D.O.B., and phone number AND 

Name of your doctor (OB/GYN)

Diabetes Office will, in turn, gather the referral needed.
Physician offices can refer patients using the Gestational Diabetes Outpatient Education Referral Form. Fill out the form, then take the following steps:
Staff of physician's office should call 1-877-215-WELL (9355) to schedule patient for dates provided.
Scheduler should gather these key pieces of information: 
Patient's name, D.O.B., and phone number

Referring OB/GYN

Calorie plan (example 1200, 1500, 1800, 2000, 2200, etc.)-

 ICD-9 code

Remind OB/GYN staff to fax in referral to diabetes office at (210) 921-3588.