Rehabilitation Services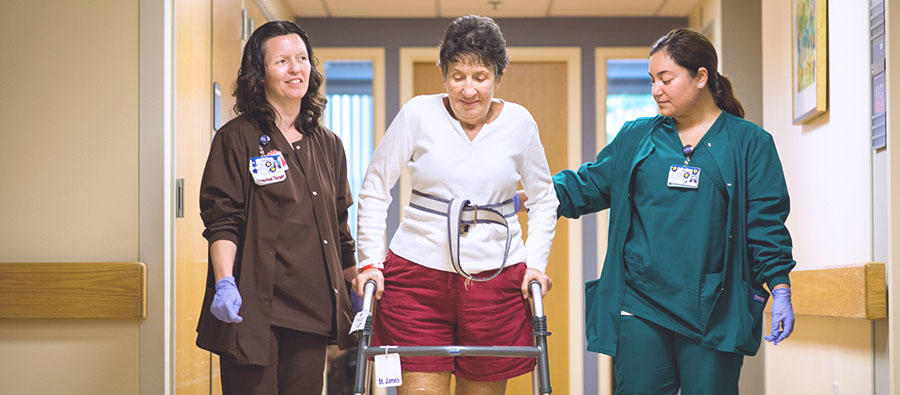 We are here to help you find what you need.
The Rehabilitation Unit is a 16-bed comprehensive inpatient program designed to help persons regain a functional status after experiencing strokes, amputation, fractures, and other disabling medical conditions.
Physical, Occupational & Speech Therapy Services
 
Inpatient Rehabilitation 
The unit's mission is to help each patient regain, to the greatest degree possible, his or her ability to function and be independent and self-sufficient. Our staff is committed to providing a complete range of services using an interdisciplinary team that includes the patient, family, caregivers, and significant others. 
We are DVN accredited, and our physicians, nursing staff, and therapists are prepared to provide quality patient care management.
Patients can be referred by their physician and admitted to our Inpatient Rehabilitation Unit from home, an acute-care hospital, or other facility. Prior to admission, patients are evaluated to assess whether intensive inpatient rehabilitation can be productive and helpful.
Some patients are not candidates for treatment. We do not admit patients with a primary diagnosis of chemical addiction or patients with known or suspected suicidal intent.
For more information, please call 210-921-3241.
Physical Therapy
Our physical therapists can work with you to relieve pain, improve mobility, restore impaired functions, and prevent or limit permanent physical disabilities. Our experienced therapists will develop an individualized program of care tailored to your needs and abilities.
We offer a variety of therapeutic techniques, approaches, and equipment in customizing each patient's treatment regime. Your therapist will closely monitor your exercises and therapies and may prescribe a home exercise program to reinforce your treatment. In addition, we will show you techniques to prevent recurring injury and to maintain your renewed mobility.
Occupational Therapy
Occupational therapy helps people learn or regain both physical and cognitive abilities to carry out the activities of daily living. These services can be especially valuable to persons recovering from a stroke or brain injury, as well as those suffering from disorders like multiple sclerosis or Parkinson's disease.
Following a thorough evaluation, our therapists work with each patient to help maximize skills and abilities. Often, these services make the difference that enables patients to live independently at home. Our therapists treat individuals with a wide range of conditions.
Speech Therapy
Our speech therapists work with patients to help improve the ability to speak, listen, read, write, organize, and solve problems. Speech therapy can be especially helpful for patients whose abilities are impaired because of a stroke or head injury, those who suffer from speech impediments such as stuttering, patients who have suffered a hearing loss and those with a mental disability or a condition such as cerebral palsy.
For patients who have swallowing problems, we can perform a barium swallow study to diagnose the cause of the problem and provide treatment. In addition, VitalStim Therapy is provided to improve dysphagia and difficulty swallowing. 
Conditions
Orthopedic conditions (hip, and femur fractures)
Stroke
Arthritis
Spinal cord injuries
Brain injury
Amputation
Neurological disorders (including Parkinson's, multiple sclerosis, muscular dystrophy)
Upper extremity/hand injury
Conditions requiring hand/forearm splinting
Cumulative injury
Adaptive equipment recommendation
Speech and language disabilities
Swallowing problems
Treatments
Inpatient rehabilitation
Physical therapy
Occupational therapy
Speech therapy