Surgical Services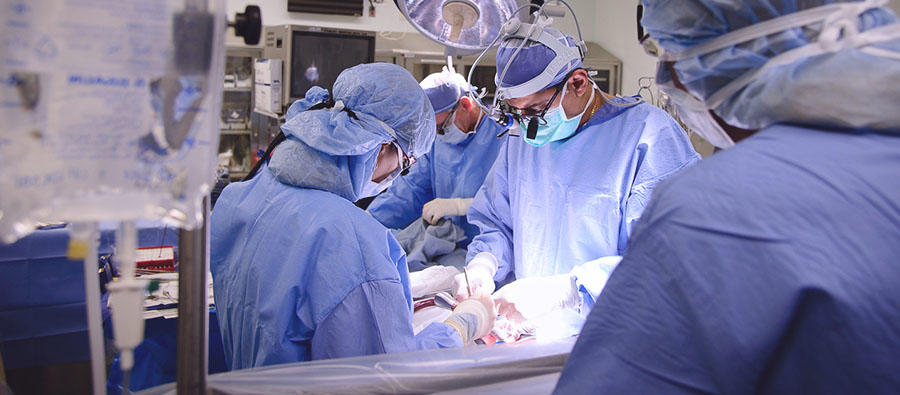 We are here to help you find what you need.
At the Texas Vista Medical Center, we offer a wide range of surgical services. For major operations, our large surgery department includes special rooms for heart surgeries and orthopedic procedures.
General & Advanced Surgical Procedures Performed At Texas Vista Medical Center
Procedures include:
Anterior Cervical Discectomy and Interbody Fusion (ACDF):
One of the most efficacious procedures that are performed to treat cervical pathologies.
Posterior Cervical Fusion:
Utilizes contemporary fixation techniques for the occipitocervical and upper thoracic spine with the advent of multiaxial screws, laminar hooks, and lateral connector attachments to a longitudinal rod.
Artificial Disk Replacement:
Cervical disc arthroplasty is intended to preserve the motion segment, reduce return to work time, and reduce reoperations due to pseudoarthrosis.
Laminectomy:
Spine operation to remove the portion of the vertebral bone called the lamina for the treatment of severe spinal stenosis by relieving pressure on the spinal cord or nerve roots.
Complex Revision and Deformity:
Treatment of fixed, unbalanced adult spinal deformities.
Minimally Invasive Decompression and Fusion:
Minimally invasive decompression and fusion techniques cause less damage to muscles and skin with smaller scars versus open surgery. They also shorter length of hospital stay and decreased blood loss.
Transforaminal Lumbar Interbody Fusion (TLIF):
Surgical technique to stabilize the spinal vertebra and the disc or shock absorber between the vertebra. Lumbar fusion surgery is designed to create solid bone between the adjoining vertebra, eliminating any movement between the bones. The goal of the surgery is to reduce pain and nerve irritation.
Direct Lateral Interbody Fusion (DLIF):
Utilizes integrated image-guided products and neural monitoring tools to help shorten surgical and recovery time and return patients more quickly to normal, active lives. The DLIF procedure delivers accurate, minimally invasive transpsoas access to the lumbar spine to address degenerative, deformity and adjacent level pathologies.
Is Outpatient Surgery An Option?
New technologies also enable us to perform many operations on an outpatient basis. These procedures minimize surgical trauma and the time needed for recovery, so you can return to the comfort of your home on the same day as surgery.
If you're scheduled for same-day surgery, please report to the admitting department on the ground floor of the hospital near our front entrance. You may park in our convenient visitor parking lot. Please bring your insurance card and a photo identification when you come to the hospital for pre-surgery testing.
If you are unable to keep your appointment for surgery, please notify both your physician and the hospital as soon as possible. You may contact our surgery scheduling department at 210-921-3585.
Preparing for Outpatient Surgery
Guidelines to Help You Prepare For Your Trip to The Hospital
Wear comfortable, loose fitting clothes.
Leave all jewelry, money and other valuables at home or with your family.
Bring appropriate storage for personal items such as dentures, contact lenses, hearing aids, and prostheses. We will label these items and keep them in a safe place during your procedure.
Arrange for someone to pick you up after surgery. Due to the effects of anesthesia, you will be unable to drive yourself home.
We make every effort to begin your procedure at the scheduled time. However, emergency cases can affect the surgery schedule. We recommend that you bring a book or magazine to read just in case an emergency surgery creates a delay in your procedure.
Cosmetic & Reconstructive Surgery
With advancements in surgical technologies, many cosmetic procedures can be performed in the outpatient setting. This makes cosmetic surgery more affordable and convenient than ever before. The board certified plastic surgeons at Texas Vista Medical Center offer dozens of cosmetic surgeries for men and women, including breast augmentation, liposuction, facelifts, and more.
For some, cosmetic surgery affords the opportunity to get rid of a little excess weight in the form of skin. For others, a procedure can cover wounds and scars from past operations or skin cancer treatments.
Reconstructive Surgery
Cancer and trauma survivors face a two-fold challenge. First comes the trial of recovery – then the trial of learning to live a new life with scars and wounds left behind. Reconstructive surgery is available for skin cancer survivors (especially common here in San Antonio), breast cancer patients and survivors, and patients who have advanced wounds, burns, facial fractures, and clefts.
Having treated hundreds of cancer survivors, burn survivors, patients with congenital defects, and advanced wounds, the reconstructive surgeons at Texas Vista Medical Center can help you look your absolute best.