Weight Loss Surgery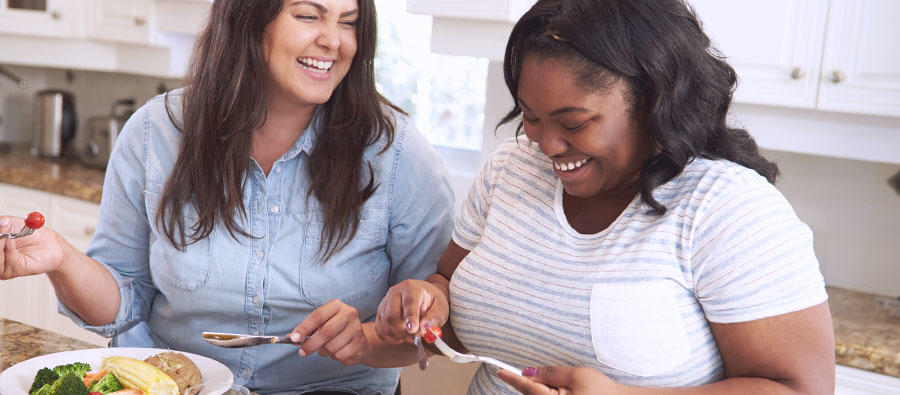 Rapid & Gradual Medical Weight Loss Options in San Antonio
Having performed more than 2,500 surgeries & being named an accredited comprehensive bariatric center by the Metabolic and Bariatric Surgery Accreditation and Quality Improvement Program (MBSAQIP®), Our surgeons believe that the success of weight loss surgery is 30% due to technical decisions and 70% due to follow-up and the patient's behavior.
Bariatirc Procedures & Weight Loss Surgery
 
Patients are able to reach their goals through medical and surgical weight loss programs that provide continual, life-long support. Surgeons at Texas Vista Medical Center have performed more than 2,500 bariatric surgeries, including gastric bypass surgery, LAP-BAND® surgery, biliopancreatic diversion, and sleeve gastrectomy.
Over the course of several weeks, the medical team will review your medical history with you, as well as any nutritional deficiencies that could prevent you from achieving your goals. During this period, many patients will find that other health conditions, such as type 2 diabetes and sleep apnea, can be resolved through weight loss surgery.
Texas Vista Medical Center has had a bariatric program since 2008 and is currently Accredited by the Metabolic and Bariatric Surgery Accreditation and Quality Improvement Program (MBSAQIP).
Medical v. Surgical Weight Loss: What's Right for Me?
Surgical weight loss isn't right for everyone. For most people, it's not going to be the easiest, healthiest, or cheapest way to get rid of extra weight. Physicians at The Weight Loss Solutions Center believe that any health issue that can be addressed non-surgically is best addressed outside of the operating room. If you answer yes to any of these questions, then surgical weight loss could be right for you:
Have you spent years of your life trying fad diets and exercise routines that just don't work?
Have body image issues affected your career, social life, or family dynamics?
Are you suffering from type 2 diabetes, and tired of the disease ruling your life?
Is sleep apnea making every night a struggle (for you and your spouse)?
Is obesity preventing your dreams of becoming a mother?
Are you suffering from additional health complications as a result of your weight?
If you answer yes to any of these questions, then we encourage you to contact the Bariatric Program Coordinator at (210) 921-8628.
4 Stage Surgical Weight Loss Program
Stage 1: Preoperative Education
During this stage, you will attend a small group seminar and a one-on-one consultation with your surgeon. You'll learn about the various types of weight loss surgeries available, as well as the pros and cons of each procedure. This first stage of our surgical weight loss program serves as a great introduction to the personal, custom-tailored advice you will receive throughout all of your interactions with the medical staff.
Stage 2: Surgery Preparation
Once you and your surgeon have decided on the appropriate bariatric surgery, your team will help you with everything from insurance authorizations to lab tests and other procedures. A nutritionist will give you the tools you need to make smart post-op dietary decisions. We want the transition to be as easy as possible for you!
Stage 3: Surgical Weight Loss Procedure
Once the insurance company has approved your bariatric surgery, your surgeon will perform the procedure in one of the state-of-the-art operating rooms at Texas Vista Medical Center in San Antonio. See a list of surgical weight loss procedures offered at the Weight Loss Solutions Center.
Stage 4: Postoperative Support… For Life!
There is no need for immediate rehab following your surgery. After three weeks, you'll return to your surgeon's office for a post-op class that reinforces the information you learned prior to your surgery. Additional lifelong support is available for patients of the Weight Loss Solutions Center through online and on-site support groups. Learn more about our follow-up care philosophy.
Program Checklist
Step 1: Verify Your Benefits
Call the member services number on the back of the card. The primary diagnosis code for morbid obesity is 278.01. Other important weight loss surgery codes:
43644 – Gastric Bypass
43770 – Adjustable Gastric Banding
43775 – Vertical Sleeve Gastrectomy (VSG)
43845 – Biliopancreatic Diversion with Duodenal Switch
43860 – Revision
Step 2: Bring a Referral
Make the appropriate arrangements with your primary care physician. Please call our offices ahead of time to ensure that the referral has been received.
Step 3: Attend One of Our Weight Loss Group Seminars
Next, sign up for a free weight loss group seminar at the Weight Loss Solutions Center. You can do this by calling 1-877-215-WELL. Once you have attended a weight loss seminar, you will receive a Confirmation of Attendance certificate, which allows you to schedule a one-on-one consultation with your surgeon. Learn more about our weight loss seminars.
Step 4: Attend a One-On-One Meeting With Your Surgeon
During your one-on-one meeting with your surgeon, you'll have the opportunity to discuss specific strategies for addressing your weight loss. Surgical weight loss and medical weight loss strategies may both be topics of discussion, depending on your condition.
Prior to attending this consultation, we require that you provide health history information. Most patients with obesity have other health conditions that should be addressed at this point.
During your consultation, your surgeon may recommend a surgical procedure. Afterwards, this weight loss surgery may be submitted to your insurance company. Approval may take four to six weeks, at which point we will contact you.
Step 5: Provide Medical Records & Supporting Information
Depending on your insurance, health conditions, and type of surgery requested, you will have to provide certain medical records and supporting information. Standard patient requirements include:
Letter of medical necessity from primary care physician
Psychological evaluation (including MMPI)
Documentation of previous weight loss attempts
Cardiac clearance (patients over 50 and as determined by insurance company or surgeon)
Pulmonary clearance (patients over 50 with a BMI over 50, and as determined by insurance company or surgeon)
Your insurance company may require the following information:
Medical records documenting weight history for a period of one to five years, depending on your health plan.
Dietary consult
Medically supervised diet and exercise program:
3-, 6- or 12-month diet requirement
Must be consecutive and completed within the last two years.
Miscellaneous labs (i.e. – TSH, H. Pylori, drug and alcohol screening, A1C, tobacco use, etc.)
Step 6: Attend One of Our Educational Bariatric Classes
Once your consultation with your surgeon is complete, you will be required to attend an introductory class on the surgery procedure you have applied for. This class will cover your new diet, risks, benefits, and other related information. 
Once the surgery has been authorized by the insurance company, you will take a final preoperative class approximately two weeks prior to the date of your surgery. At this point, you are almost ready to make one of the biggest changes of your life!
Post-Surgery
Once you've gone through your initial pre-op evaluation, you will be provided with custom-tailored advice about how to eat healthily after your weight loss surgery. In addition to receiving information specific to your own body, you will receive printed information about pre- and post-weight loss surgery nutrition.
The Three Month Checkup
After three months of your post-operative diet, you'll be asked to return to your surgeon's office for a review of your micro- and macronutrients. This review helps us follow your progress and ensure that your weight loss is healthy and beneficial in the long term.
Follow-up care is available throughout all of South Texas. We have enhanced this follow-up care through:
An electronic tracking system
Online patient support groups
Local support groups
Social media (Facebook and Twitter)
Electronic voice and email messaging systems
Newsletters
Community classes are offered year-round every Saturday
Conditions
BMI of 40 or more
BMI of over 35 and have other comorbidities
Treatments
Adjustable Gastric Band Procedures (LAP-BAND®, Realize® Band, etc.)
Gastric Bypass
Sleeve Gastrectomy
Biliopancreatic Diversion
Revision Weight Loss Surgery
Resources
Post-Surgical Weight Loss: Your Guide to Body Contouring

In order to better serve you, the post-bariatric plastic surgeons at Southwest General Hospital have put together a comprehensive guide: Post-Surgical Weight Loss: Your Guide to Body Contouring. Think of it as your personal help guide, full of frequently asked questions about plastic surgery. This is a great resource for patients who are interested in speaking with a cosmetic surgeon.